Thank you so much for visiting my store! Your support helps fund new music, new projects and local music.
Violet Fusion
"Electrified"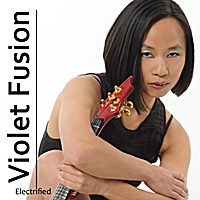 Purchase your copy on iTunes, or CDBaby
Violet Fusion was a Toronto based band led by Victoria Yeh (electric violin) and the late Trevor Maybee (drums). This instrumental alt/prog rock group performed live across the Greater Toronto Area, and toured the Northwest Territories on an educational outreach program in 2014. The group folded following the tragic death of Trevor Maybee in December 2014.
"Electrified" is the group's sole album, featuring all original works in a unique fusion of alternative/progressive rock and classical music. Inspired by such artists as Toto, Collective Soul and Joe Satriani, Violet Fusion pushes the limits of a classical instrument into the modern and progressive realm.
Art Griffin's Sound Chaser
"Visions From The Present"
Purchase your copy from iTunes, LaserCD.com, or Facebook
A review from US distributor LaserCD.com sums it all up:
"Sometimes excellent discs fall out of the sky unannounced…
Art Griffin is a Canadian multi-instrumentalist (primarily keyboards and bass with some guitar) who put together this instrumental prog rock project. He brought onboard some of Canada's top musicians. Anchoring the album is drummer Steve Negus from Saga. He also mixed the album. Electric violinist Victoria Yeh goes head to head with Griffin and guitarist Kelly Kereliuk – they all lay down some serious soloing and the interplay between them is superb. Kereliuk plays with a modern, harder edge that just stops short of metal. The overall vibe of the albums blends prog rock, fusion and OK maybe a little bit of metal in the heavier sections (I'm hearing some Dream Theater elements in spots). Clearly Yes has been a big influence of Art Griffin's writing and that band's spectre hangs over the whole project as its all sewn together with a gorgeous Roger Dean cover. One look at this whole package and it just screams PROG! BUY OR DIE!"